Speaker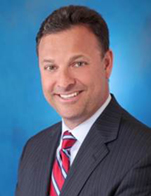 Jerry Raio
Managing Director & Head of Retail Origination
Wells Fargo Securities

Jerry Raio is a managing director and head of Retail Origination in the Equity Capital Markets group at Wells Fargo Securities. He is based in New York.

Jerry joined Wells Fargo in 2005 as a Director in Equity Capital Markets. Prior to joining Wells Fargo, he was a director and the head of Closed-End Funds at Citigroup Asset Management. Jerry has more than 15 years of experience in Equity Capital Markets, having worked on the retail syndicate desks at both Citigroup and Morgan Stanley. Jerry received a B.S. from the State University of New York at Albany and an M.B.A. from the Frank Zarb School of Business at Hofstra University.