Speakers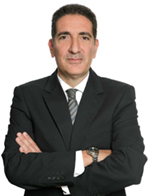 Phivos Stasopoulos
General Manager, Business Division
Hellenic Bank

Born in 1967 in Cyprus, Phivos Stasopoulos has extensive experience in the accounting and banking industries. Graduated from the Acropolis Gymnasium and studied Accounting, Finance and Econometrics (B.A.) at the University of Manchester. He then joined KPMG in the UK, where he qualified as a Chartered Accountant.

After 4 years working in KPMG UK, in 1994 he returned to Cyprus to join Bank of Cyprus as Head of Debt Recovery. After serving in various posts, he became General Manager of Corporate Banking. He left the Bank of Cyprus at the end of 2013 and for a period of almost 2 years he has been advising reputable clients operating in various sectors of the economy. Since 1993, he is also a Fellow member of the Institute of Chartered Accountants in England and Wales (ICAEW).

He joined Hellenic Bank in April 2016. From August 2016 to October 2017, he held the position of General Manager Business & Insurance Division. Since November 2017 he holds the position of General Manager, Business Division.