Speakers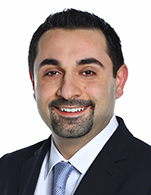 Mo Haghbin, CFA, CAIA
Head of Product
OppenheimerFunds, Inc.

Mo Haghbin is the Head o f Product within OppenheimerFunds' Beta Solutions business. He is responsible for leading research and development of new investment solutions, including smart beta ETFs.

Mo joined the firm from BlackRock where he was most recently the head of Business Management for the US Fundamental Fixed Income Teams. Previously, he was Head of Next Generation Fixed Income within iShares Exchange Traded Fund (ETF) division and a Director in the Global Markets and Investments Group.

At iShares, he was also responsible for defining long-term product strategy for the US fixed income business focused on growth areas within smart beta, term maturity, hedged and active ETF categories. In 2007, he joined Barclays Global Investors (BGI) in the Portfolio Management Group and oversaw the Derivative Product Services and Trading Operations team in San Francisco. (BGI was acquired by BlackRock in 2009.)

Haghbin holds a B.S. from the University of Colorado, and is a member of the CFA Society and the CAIA Association.