Speaker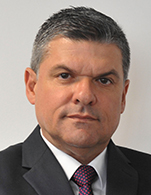 George Papanastasiou
Managing Director and General Manager
VTT Vasiliko Ltd

George Papanastasiou worked 26 years for BP in Cyprus, United Kingdom, and other countries, having held various managerial positions within the company including the position of the Head of Country in Cyprus.

He is a mechanical engineer by profession with a HND in Mechanical Engineering from the Higher Technical Institute of Cyprus, a BSc in Mechanical Engineering from the City University London and an MSc in Refrigeration & Air Conditioning from Kings College London.

During his career he gained a wide breadth of experience in the oil industry and specifically in the fields of Supply & Logistics, Health, Safety, Security & Environment, Operations & Engineering, Sales & Marketing, Company Governance and Compliance.

Mr. Papanastasiou was appointed as Managing Director and General Manager of VTT Vasiliko Ltd, a subsidiary of VTTI B.V., on the 1st of October 2011 and leads a versatile team of professionals with the aim of constructing and operating the oil storage terminal of the company at Vasilikos area, the biggest foreign investment infrastructure currently in Cyprus.