Speaker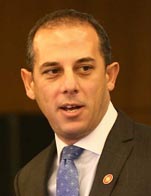 Marios Demetriades
Member of the Investment Committee
Euploia Shipping Fund
Former Minister of Transport, Communications and Works - Republic of Cyprus

Marios Demetriades graduated from the University of East Anglia with a BSc in Business, Finance and Economics. He is a qualified Chartered Accountant since 1996 and a CFA Charterholder since 2000. He started his career as a trainee Chartered Accountant, working for BDO Stoy Hayward in London. He then worked as a Senior Auditor for EY in Cyprus before moving to Laiki Bank where he ran the Asset Management division until the end of 2007, when he was recruited by Piraeus Bank (Cyprus) to run the Asset Management and Custody departments. In March 2014, he became the Minister of Transport, Communications and Works for Cyprus, a position he kept until the end of the term of the government in February 2018. Currently, he is the Managing Partner of MD Mindset Capital, involved in significant projects in the infrastructure space. He is also a member of the Board of Directors of various companies in the Financials Services, Infrastructure and Shipping sectors.

Over the years, he has acquired significant experience in Capital Markets, having being involved in that business for over fourteen years. As a Director in various Boards he has accumulated significant experience in corporate governance and approval of investments. The scope of his Ministry covered a large part of the Cyprus economy including the Transport sector, Telecommunications Infrastructure, Public Works and Antiquities. During his term he completed the re-organization of the Ports sector, including the privatization of the largest commercial port and opened up the Aviation sector, which resulted in more than 40% increase in traffic. He also promoted heavily the Cyprus shipping sector with the local cluster growing significantly under his leadership.