Speaker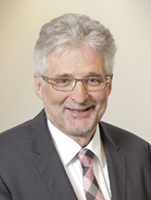 Ferry van Eykel
Senior Customer Account Manager
Veritas Petroleum Services (VPS)

Ferry van Eykel is Senior Customer Account Manager, at Veritas Petroleum Services (VPS) with overall responsibility for sales activities at VPS Rotterdam.

He holds a Master in Business Administration (MBA) from Business School Netherlands and a degree in Engineering from the Nautical & Engineering College in Flushing, the Netherlands.

Having spent more than 12 years at sea as a marine engineer on a variety of vessels, e.g. container vessels, tankers and dry-bulk carriers, Ferry has an in-depth knowledge of the maritime industry and marine fuels.

Ferry joined Veritas Petroleum Services Rotterdam as a technical adviser in 1992. In 1996, he took over the position of Regional Manager, with responsibility for all fuel management related activities (sales, lab. operations, technical operations and surveys) performed by VPS in central and southern Europe.

Prior to joining Veritas Petroleum Services as a technical adviser in 1992, Ferry held the position of Technical Superintendent for the Sandfirden shipping company, located in Haren, the Netherlands. At Sandfirden, he was heavily involved in the conversion of two vessels for South Pole expeditions.