Speaker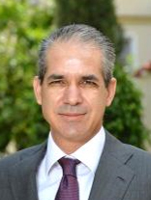 Andreas Georgiou
Audit and Assurance Partner
Deloitte Cyprus

Andreas Georgiou is an Audit & Assurance Partner of Deloitte Cyprus, based in Limassol Office leading the IFRS (Complex Accounting) services of Cyprus office. Mr Georgiou carries more than 20 years of audit experience servicing mainly large multinationals operating in Shipping, Banking and Private Equity and Retail. Very often he advises clients on the application of International Financial Reporting Standards and undertakes IFRS workshops and seminars both in Cyprus and abroad.

Mr Georgiou is a U.K. qualified accountant (F.C.C.A.) and holds an MBA degree from the University of Newcastle Upon Tyne (UK). He is also an approved Internal Auditor of Financial Services Entities by the Ministry of Finance and the Cyprus Stock Exchange Committee. Mr Georgiou has served for many years as member of the IFRS and Audit Committees of the Institute of Certified Public Accountants of Cyprus ( ICPAC). .