Speaker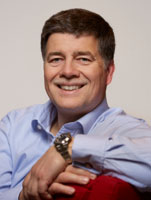 Ronald Spithout
President
Inmarsat Maritime

Mr Ronald H. W. Spithout currently serves as President, Inmarsat Maritime. Spithout was appointed in October 2014 to oversee global maritime activities for Inmarsat, the leading provider of global mobile satellite communications services. Prior to joining the maritime business unit, he served as President, Inmarsat Enterprise. In this role, held since 2012, Spithout had global responsibility for sales, including accountability for P&L, strategic direction and partnerships for enterprise markets, including Energy, Media and Commercial. Spithout came to Inmarsat from Stratos Global, which had been acquired by Inmarsat in April 2009 and then restructured under the Inmarsat brand in January 2012.

From July 2006 through December 2011, Spithout was Senior Vice President, MSS Marketing and Sales, Worldwide, for Stratos Global. He held global responsibility for the MSS marketing and sales organization, including accountability for P&L, strategic direction and partnerships, the company's distribution network, and the evaluation of new technologies to enhance and complement Stratos' core offerings. Prior to that, he handled Stratos MSS Sales for all countries except North America. He came to Stratos from Xantic B.V., a satellite communications company headquartered in The Netherlands, which was acquired by Stratos in early 2006. At Xantic, Spithout served as Executive Vice President Marketing and Sales and was previously responsible for Xantic's Network and Service Operations, including the Land Earth Stations and its customer service activities.

Spithout, who began his career in the telecommunications business in the late 80s, held various sales positions for KPN (the Royal Dutch Telecom Operator) in the Netherlands and has held numerous positions with several of KPN's JV companies including business accountabilities for KPN's Asia market out of Singapore, operations for PanTel in Hungary, and marketing and sales for Ratelindo in Indonesia.

Spithout holds a degree in electrical engineering from HTS-Rotterdam, the Rotterdam Institute for Technology. He also served in the Dutch military as a reserve Lieutenant in the Dutch Cavalry.

In 2018, he was ranked 28 in the Lloyd's List Top 100 most influential people in shipping for his role in driving digitalisation at sea.