Speaker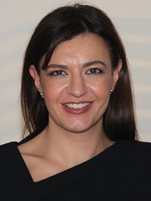 Eleni Vrettou
Managing Director, Head of Wholesale Banking
HSBC Greece

Eleni Vrettou has assumed the role of Head of Wholesale Banking Greece in July 2012 having responsibility for the development and implementation of HSBC group strategy in Greece across the entire wholesale client base, including Public Sector in Greece and Cyprus, Large and Mid Market Greek Corporates, Financial Institutions in Greece and Cyprus, Multinationals, and Greek Shipping. In addition to the coverage oversight, she has responsibility for all commercial and investment banking products.

She brings more than 18 years of banking experience working for leading financial institutions in Greece, London, and New York. Prior to taking up her current role, Eleni was based in London as Regional Head Multinationals of CEE, CIS, Med and Africa for HSBC Group, being also responsible for the Business Development of Global Banking across the same region.

Eleni graduated from The Wharton School of the University of Pennsylvania, holding a Bachelor of Science in Economics with concentration in Management and Finance and speaks 6 languages.

She is a mother of two children and enjoys music and art.