Speaker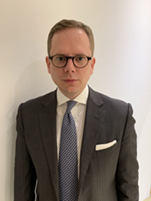 Markus Wenker
Head of Ship Finance
Hellenic Bank

Markus Wenker is the Head of Ship Finance of Hellenic Bank. Prior to joining Hellenic Bank in 2016 and setting up its ship finance desk, Mr. Wenker worked for HSH Nordbank, most recently as a Senior Restructuring Manager in the bank's shipping restructuring practice, focusing on international shipping companies. He started his banking career in 2002 and has been active in ship finance since 2005, when he joined the Greek clients desk of HSH Nordbank's shipping division.

Mr. Wenker is a certified banker and holds degrees in banking and business administration.