Speaker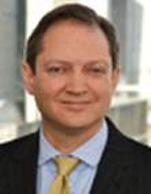 Andrian Dacy
Managing Director, CEO and the CIO
J.P. Morgan Asset Management's Global Transportation Group

Andrian Dacy (London), Managing Director, is the CEO and the CIO of J.P. Morgan Asset Management's Global Transportation Group. Andy has over 30 years of experience in the transportation sector. Since 1988, Andy has been active in M&A, equity issuance, debt capital markets, private equity investing and financial advisory activities for J.P. Morgan and its predecessor firms. Prior to his current role, Andy was Global Head of Shipping and Cruise investment banking for J.P. Morgan from 2003-2008. From 2000-2003, Andy was a member of J.P. Morgan's Transportation Group's investment banking team focusing on airlines, automotive, container leasing, and logistics companies. Prior to these roles, Andy was Director of Transportation investment banking at Ceres S.A., a European merchant banking firm, and was an officer in the Global Shipping Groups of Chemical Bank and Manufacturers Hanover Trust. Andy earned a B.A. from Dartmouth College and graduated with a Masters in International Affairs from Columbia University. Andy is also a graduate of the Harriman Institute of Columbia University, a research institute for the study of Russia and Eastern Europe.