Speaker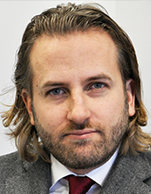 Christos Economou
Founder & CEO
LNGShips, TMS Cardiff Gas

Christos Economou is the founder & CEO of TMS Cardiff Gas Ltd. (est. 2011), a dedicated and well-rounded manager of a 11 LNG vessel fleet, six of which are Xdf 174,000k delivered earlier this year, while the delivery of another five vessels is expected until mid-2021. His activity in the industry is constantly evolving with the latest vehicle being LNGShips Inc. (est. 2018), a venture focused on long term charters, where he is also the Founder & CEO. His involvement within the gas shipping sector dates back to 2010 through Oceanus LLC, a well - established spot/medium term vehicle.

Christos Economou has served as the Executive Vice President of Cardiff Marine Inc. between 2008 - 2012. Prior to joining Cardiff Marine Inc., he worked at Heidmar Inc., based in Norwalk, CT as part of the Corporate Management, Freight Trading and Chartering departments, while previously being an Analyst for Lazard Ltd. in New York. Christos Economou holds an MSc in Ocean Systems Management from MIT and a BA from Tufts University majoring in Quantitative Economics and Entrepreneurship.