Speaker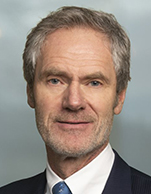 Anders Onarheim
Chief Executive Officer
BW LPG

Anders Onarheim's extensive knowledge in management, business development and capital markets was acquired when he was Managing Director in companies within Carnegie Group for over 16 years, prior to joining BW LPG in 2020.

Prior to Carnegie, Mr Onarheim served as the Head of Equities of Enskilda Securities Norway from 1994 to 1996. From 1990 to 1994, he served as an Executive Director in the Investment Banking division of Goldman Sachs in the UK. From 1986 to 1990, he was Vice President for institutional sales in Merrill Lynch in the US and the UK. Mr Onarheim has held numerous board memberships within different industries, and is currently Chairman of North Energy ASA and Vice Chairman of Reach Subsea ASA. He served on the BW LPG Board from 21 November 2013 to 20 May 2020.

He holds an MBA from the Washington University in St. Louis, where he graduated in 1986.

Mr. Onarheim has attended 4 of 4 board meetings in 2019.