Speaker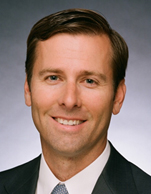 Joel M. Wine
Senior Vice President and Chief Financial Officer
Matson, Inc.

Joel M. Wine is senior vice president and chief financial officer of Matson, Inc., overseeing all financial matters, including accounting, tax, financial reporting and compliance functions, as well as corporate development, mergers and acquisitions, treasury, risk management and investor relations. Previously, he was the senior vice president, chief financial officer and treasurer of Alexander & Baldwin, Inc.

Wine joined Alexander &Baldwin in September 2011 after fourteen years at Goldman Sachs where he was a managing director in investment banking. At Goldman Sachs, Wine provided strategic M&A and financial advice to a broad spectrum of companies. Alexander & Baldwin was among Wine's portfolio of clients since 2002.

Wine holds a bachelor's degree from the University of Notre Dame and a master's degree in business administration from the University of Chicago. He currently serves on the board of the Signal Club.