Speaker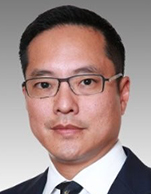 Kenneth Lam
Chairman & CEO
Credit Agricole Asia Shipfinance Ltd

Kenneth Lam is a Managing Director and the Head of Shipping and Offshore in Asia at Credit Agricole Corporate and Investment Bank (CA-CIB). He joined the Bank in 1990 and is also the Chairman and CEO of Credit Agricole Asia Shipfinance Ltd., a wholly owned subsidiary of CA-CIB fully dedicated to providing a full range of financial and advisory services to the shipping industry.

Kenneth graduated from the Amherst College, Massachusetts, USA with a B.A. degree with honors in Philosophy and Economics.

Kenneth is currently an Executive Committee Member and the Honorary Treasurer of the Hong Kong Shipowners Association and a Member of the Hong Kong Maritime and Port Board (MPB) including serving in its Development Committee's Task Force on Ship Leasing and Task Force on Commercial Principals.

He was also a Member of the Maritime Leasing and Financing Working Group of the Hong Kong Financial Services Development Council which published the Maritime Leasing Paper in May 2018. The Leasing Paper was followed up by the Task Force on Ship Leasing which led to the Ship Leasing Bill being passed by Legco in June 2020.

Kenneth is a Member of the Chinese People's Political Consultative Conference of the Sichuan Province and is the President of the Hong Kong Golf Association.