Speaker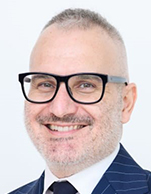 Mario Moretti
Marine Asia Senior Director
RINA Marine

Mario Moretti is RINA Marine Asia Senior Director, stationed in Singapore He is responsible for the company activities in the marine sector in Asia.

Mario has a master degree in Naval Architecture and Marine Engineering from the University of Genova (Italy).

He started his carrier in RINA in 2005 as a surveyor in Italy and relocated to South Korea in 2006. After two years spent in Korea and Japan, Mario moved to Shanghai in 2008 to take the position of Deputy Marine Manager of Shanghai office. In 2012 he moved to Jakarta as he was appointed Country Manager for Indonesia. Since July 2016, Mario was relocated to Singapore as Area Manager for South East Asia and since January 2018 he took the present role of Asia Senior Director. Mario has also served as Singapore Shipping Association Council Member from February 2018 to June 2019.