Speaker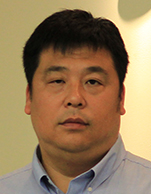 Mark Young
Chief Executive Officer
Asia Maritime Pacific

Mr. Mark Young is the Chief Executive Officer of Asia Maritime Pacific, a leading Handysize owner and operator that operates worldwide. Mr. Young holds a degree in International Shipping Management from Shanghai Maritime University. In 1993 he co-founded Younger Niche Logistics, now a major project logistics service provider in China. Mr. Young has a number of other shipping interests operating throughout the Asia-Pacific and African regions.

Prior to the merger of Asia Maritime Pacific with OSL Shipping in 2012, Mr. Young was a shareholder of and advisor to OSL Shipping from when OSL was founded 2005, and CEO of the previous AMP since the company was founded in 2008. After the merger in 2012, Mr. Young has remained the CEO of AMP.

Mark Young was a swimmer for China national Swimming Team in 1982 to 1986.