Speaker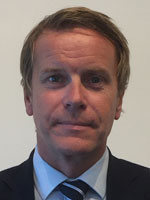 Lars H. Barstad
Interim Chief Executive Officer
Frontline Management AS

Mr. Lars H. Barstad has served as Interim Chief Executive Officer of Frontline Management AS since October 2020, and as Commercial Director since 2015. Mr. Barstad has close to 17 years' experience in the wider shipping and oil trading industry, firstly as Director of Imarex Pte Ltd in Singapore. He joined Glencore Ltd in 2007 as head of FFA trading, working in London. In 2012 he moved to Noble Group Ltd, continuing to work as derivatives trader, with a cross commodities mandate.

Mr. Barstad holds a BSc in Financial Economics from BI Norwegian Business School.