Speaker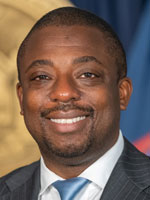 Brian A. Benjamin
Lieutenant Governor New York State

Brian A. Benjamin is the 78th Lieutenant Governor of New York State, appointed by Governor Kathy Hochul in September 2021.

Lt. Governor Brian A. Benjamin previously served as the New York State Senator for District 30, which encompasses Harlem, East Harlem, and the Upper West Side, where he served as the Chair of the Budget and Revenue Committee, Acting President Officer and as the Senior Assistant Majority Leader. As State Senator

Benjamin was elected to the New York State Senate in 2017 and distinguished himself as a pragmatic solutions-oriented legislator. He has been a leading voice in fighting for fairness as it relates to criminal justice reform, public safety, affordable housing and economic recovery. Benjamin earned his undergraduate degree in Public Policy from Brown University and his MBA from Harvard Business School.

One of his signature pieces of legislation that highlights his pragmatic approach was sponsoring and ushering the NYC Rainy Day Fund bill into law, which allows New York City to save funds in a revenue stabilization fund to prevent cuts to essential services during times of economic trouble. From a human rights perspective, he successfully pushed for the divestment of the state public pension funds from private prisons, and the following year he introduced a bill to forbid state-chartered banks from such investments as well, which helped pressure Bank of America to end their relationship with Geo Group and Core Civic. Benjamin's proposal to keep rent-controlled apartments affordable was a part of the history-making Tenant Protection Act of 2019, which helped many seniors afford their rent particularly during the COVID-19 pandemic. In 2020, Benjamin's historic bill the Eric Garner Anti-Choke Hold Act, passed along with a suite of police reform legislation after George Floyd's murder. Benjamin continues to fight for parole reform as the lead sponsor of the "Less is More Act," which would transform New York's broken parole system.

Early Career

He was born in Harlem to Caribbean immigrants who came to this country seeking new opportunities. After business school, Benjamin spent three years working in investment banking. Benjamin then returned to Harlem to build affordable housing, creating over a thousand units of environmentally sustainable, affordable housing at an M/WBE while helping young people develop work skills and secure good construction jobs through community youth programs. He was heavily involved in the community serving as Chair of Community Board 10 and the Land Use Committee, a position he used to preserve the character of the community (such as his successful "Harlem not SOHA" campaign), and help keep Harlem affordable. He helped countless young people at Harlem's Wadleigh High School achieve a brighter future by launching a mentoring program in 2013. He also most recently served as an alumni-elected trustee of Brown University.

Benjamin lives in Harlem with his wife Cathleen and his daughter Caroline.