Speaker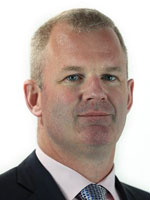 Cameron Mackey
Chief Operating Officer and Director
Eneti, Inc.

Cameron Mackey has served as the Chief Operating Officer of Eneti, Inc. since July 2013. Mr. Mackey has also served as Chief Operating Officer of Scorpio Tankers Inc, since its initial public offering in April 2010 and as a Director since May 2013. He joined Scorpio in March 2009, where he continues to serve in a senior management position. Prior to joining Scorpio, Mr. Mackey was an equity and commodity analyst at Ospraie Management LLC from 2007 to 2008. Prior to that, he was Senior Vice President of OMI Marine Services LLC from 2004 to 2007, where he was also in Business Development from 2002 to 2004. Mr. Mackey has been employed in the shipping industry since 1994 and, earlier in his career, was employed in unlicensed and licensed positions in the merchant navy, primarily on tankers in the international fleet of Mobil Oil Corporation, where he held the qualification of Master Mariner.

He has an M.B.A. from the Sloan School of Management at the Massachusetts Institute of Technology, a B.S. from the Massachusetts Maritime Academy and a B.A. from Princeton University.