Speaker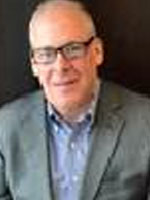 Nathaniel "Sam" Ruda
Director, Port Department
Port Authority of NY & NJ

Sam Ruda was appointed Director of the Port Authority's Port Department on April 15, 2019.

Sam joined the Port Authority of NY & NJ as the Assistant Director, Port Business Development, in August of 2015. In that role, Sam had oversight for the retention and growth of the Port's maritime business segments: auto, bulk, containers, and cruise.

Additionally, this role had oversight of the Port's marine property and leasing division. In December of 2016, Sam was named Deputy Director with additional responsibilities covering port performance initiatives and innovation. In October of 2018, Sam was named Acting Port Director.

Prior to joining the Port Authority of NY & NJ, Sam was Chief Commercial Officer (CCO) for the Port of Portland (Oregon). In this role, Sam had responsibility for the maritime and aviation business activity in addition to the Port's industrial real estate portfolio. From 2003 to February of 2012, Sam was the Director of Marine and Industrial Development at the Port of Portland.

Born and raised in New Jersey, Sam began his career as a management trainee with the global container carrier Sea-Land Service. He has also held sales and management positions with American President Lines and NYK Line. From 1997-2001 Sam was Coordinating Manager for NYK's North American Liner division based in Tokyo, Japan and later had responsibility for North Asia Marketing and Pricing based in Hong Kong, PRC.

Prior to joining the Port of Portland, Sam was Director of Global Transportation for Nike Inc, overseeing international logistics for the Beaverton, Oregon based athletic footwear and apparel company.

Sam holds a bachelor's degree in economics (1985) from Rutgers University.