Speaker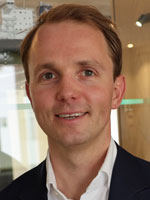 Karl Fredrik Staubo
Chief Executive Officer
Golar Management Ltd.

Karl Fredrik Staubo was appointed Chief Executive Officer on May 13, 2021. Prior to this role he acted as Golar LNG's Chief Financial Officer from September 2020 and as Chief Executive Officer of Golar LNG Partners LP from May 2020 to April 2021. Before joining Golar, Mr. Staubo spent 10 years advising and investing in Shipping, Energy and Infrastructure companies with Magni Partners Ltd. (2018-2020) and Clarksons Platou Securities (2010-2018). During his time with Magni Partners, Mr. Staubo also worked as an advisor to the Golar Group. At Clarksons Platou Securities he worked in the Corporate Finance division, including as Head of Shipping, Investment Banking (2015-2018). He has a MA (Business Studies and Economics) from the University of Edinburgh.