Speaker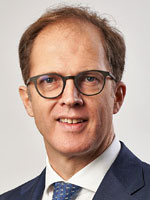 Hugo De Stoop
CEO
Euronav

Hugo De Stoop joined Euronav in September 2004 and was appointed Deputy CFO and Head of Investor Relations and has been nominated CFO as of 1 January 2008. In May 2019, he assumed the position of CEO.

Hugo started his career with Mustad International Group, an industrial group with over 30 companies located in five continents where he worked as a Project Manager on various assignment in the U.S., Europe and Latin America, in order to integrate recently acquired subsidiaries.

He founded First Tuesday in America (the world's largest meeting place for high tech entrepreneurs, venture capitalists and companies), helped develop the network in the U.S. and in Latin America and was appointed member of the Board of Directors of First Tuesday International.

He then joined Davos Financial Corp. London, an external investment manager for UBS, specialized in asset management and private equity, where he became an Associate and later a Vice President. He conducted several transactions, including private placement in public equities (PIPE) and investments in real estate.

Hugo De Stoop (1973) studied in Oxford, Madrid and Brussels and graduated from Ecole Polytechnique (ULB) with a Master of Science in Engineering. He also holds an MBA from INSEAD (France and Singapore).