Speaker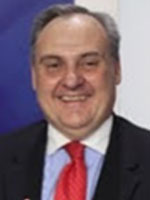 George Syllantavos
co-CEO & CFO, Growth Capital Acquisition Corp.
Board Member, Ithax Acquisition Corp.
Advisor, Relativity Acquisition Corp.


George Syllantavos has an over 30 years career in transportation, corporate finance and the public markets. In the SPAC space, he is co-founder and currently the co-CEO and CFO of Growth Capital Acquisition Corp (Nasdaq: GCAC) that raised $172.5 million, a member of the Board of Ithax Acquisition Corp. (Nasdaq: ITHX) that raised $241.5 million and an advisor to Relativity Acquisition Corp. currently in the process of raising $125 million. In the past, he has co-founded 3 other SPACs that conducted US IPOs, namely Stellar Acquisition III Inc. (Nasdaq: STLR), Nautilus Marine Acquisition Corp. (Nasdaq: NMAR) and Star Maritime Acquisition Corp. (AMEX: SEA) and subsequently effected 3 successful business combinations that resulted in Phunware Inc. (Nasdaq: PHUN, serving as Board Member), Nautilus Offshore Inc. (Nasdaq: NMAR, served as co-CEO and CFO) and Star Bulk Carriers Corp. (Nasdaq: SBLK, served as CFO) respectively.

He is the Managing Partner of Magellan Investments Corp., a Partner of SevenSeas Investment Fund and a co-Managing Director of Nautilus Energy Management Corp.

Mr. Syllantavos holds a BSc in Industrial Engineering and an MBA in Industrial Operations Management, Transportation Management and International Finance from the JL Kellogg Graduate School of Management at Northwestern University.