Speaker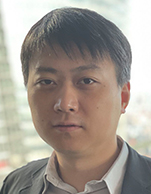 Rock Wang
Deputy Head of Sales & Marketing Department, Shipping Finance
Bank of Communications Financial Leasing Co., Limited

Rock Wang has been working in maritime investment and finance industry for over 12 years. His hometown is Beijing. He lived in Hong Kong for 7 years and in Shanghai for over 8 years so far.

Rock Wang joined in Bank of Communications Financial Leasing Co., Limited (Bocom Lease) in 2013. Since then, he has been in charge of sales and marketing activities covering Asia Pacific, North America, South America and Middle East. In the past 8 years, Rock Wang helped Bocom Lease open various overseas markets and build a strong sales team, completing investment projects for over 6Bn USD with global famous ship-owners and charterers. He focuses on the maritime investment and finance opportunities in both domestic and overseas market.

Prior to joining in Bocom Lease, Rock Wang served in China Shipping (Hong Kong) Holdings as an account manager in the container lease sector.

Rock Wang holds a Master degree (MSc) in Finance from the Chinese University of Hong Kong, and a BBA degree in International Shipping and Logistics from the Hong Kong Polytechnic University.