Speaker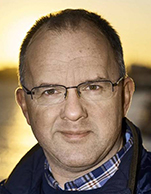 Kim Diederichsen
CEO
Anemoi Marine Technologies

Kim is CEO of Anemoi Marine Technologies, a London based supplier of green technology to the maritime industry. The technology, Rotor Sails, help to reduce harmful emissions and drive a more sustainable future for commercial shipping, which is becoming an increasingly important issue as the industry moves to decarbonise.

Kim was educated at the Fanø Marine Academy, where he was certified as a Master Mariner and went on to be a Chief Officer for a large ship management company. He then turned his focus to the commercial aspects of the industry, retraining at Aarhus University and moving into sales, business development and Chief Executive roles in Marine, Oil and Gas. Kim specialises in business expansion, strategic development and opportunity identification, and applies his Marine background to take a hands-on approach to leadership.