Speaker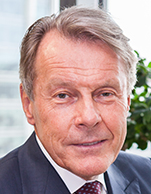 Svein Steimler
President and CEO - NYK Group Europe Ltd
Executive Officer - NYK Group

Svein Steimler commenced his shipping career about 45 years ago. Initially in the Norwegian Navy, he comes from a family with a strong naval and merchant shipping heritage in Norway.

In 1989 he was employed by the Fredriksen group as CEO during which time he restructured and refinanced the company, renewed the fleet, and led the company into the offshore market introducing the first large offshore mono hull production unit which later has become a standard solution within the offshore industry.

Since joining NYK in 1998 Mr. Steimler was promoted to Executive Vice President and Chief Operating Officer of NYK Group Europe Ltd (NGE) in 2008, and proudly holds the position of President and CEO of NGE from April 1, 2017.

Achievements include instigating the purchase and development of ICO nv (International Car Operators) terminal, which over time and under his chairmanship has grown to become the world's largest car terminal handling more than 2.6 million cars annually as well as rolling out initiatives to totally electrify the terminal to succeed in making it the greenest globally. Moreover, initiating and chairing the development of ICO WindPark on the terminal, the largest wind farm project in Flanders in a joint venture with ENGIE and ZEEBRUGGE Port Authorities.

Mr Steimler introduced NYK to the offshore business sector, setting up the shuttle tanker operation KNOT (Knutsen NYK Offshore Tankers) in 2010. NYK holds a 50% share of this business which is now one of the world's leading shuttle tanker operations. He was appointed to the NYK Group Board in Tokyo as Executive Officer in April 2013. A position he holds to date.

In April 2017 he was as the first non-Japanese nominated Chief Executive of the Japan Shipowners Association (JSA) representing Japan and its 127 shipowners at the International Chamber of Shipping consisting of 32 full country members. He remains a member of the international SEALNG BOD representing shipping where members also comprise of engine manufacturers, classification societies, ports, and oil majors.

Mr. Steimler is passionate about communicating the importance of shipping to the wider public, a keen advocate of reducing the impact on the environment within all shipping operations. In recognition of his contribution to the shipping industry, Mr. Steimler was awarded a doctorate in Maritime Operations from Southampton Solent University in November 2012.