Speaker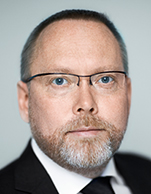 Tommy Thomassen
Chief Technical Officer
Maersk Tankers

Tommy Thomassen is Chief Technical Officer in Maersk Tankers, one of the leading product tanker companies in the world.

Tommy has a wealth of industry experience, having held various leadership positions in his 25+ years in the energy industry. In his current role, his main responsibilities are heading up the technical organization including procurement, ship management and marine standards.

He holds a B.Sc. in Engineering and an MBA in Management of Technology.