SPEAKERS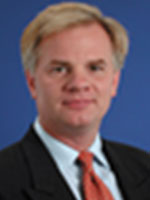 Jay Collins
Managing Director, Vice Chairman Corporate & Investment Banking
Citi
Jay has covered clients around the world in every sector and run transactions across the full product spectrum of Citi. He currently covers governments as diverse and complex as the U.S. government and Greece, as well as Emerging Market governments, such as the Philippines and Brazil.
He has advised 46 different governments on privatizations, liability management and funding solutions, derivatives, and electronic banking services, including mobile finance and card solutions.
Jay is currently working with Citi's government clients to (1) implement commodity, rates and fx risk mitigation techniques (2) reduce paper and cash processes (3) develop new and innovative funding strategies, including liability management (4) monetize state assets (5) utilize mobile financial solutions to improve financial inclusion and (6) enhance emergency financial preparedness.
Prior to becoming a banker, Jay worked in Washington D.C., where he ran Government Relations for CSIS, and later served as President of the G7 Council, a non-profit shadow G7 group of former Finance Ministers, Central Bank Governors and economists.
Before joining Citi, Jay worked for Merrill Lynch in their large-cap Investment Banking team and was a founding member of the Direct Investment Group, Merrill's Emerging Markets principal investing team.
Prior to his CEEMEA position, Jay was Deputy Head and the senior foreigner in Nikko Citigroup's Investment Banking Division. From 2001- 2005, Jay was Head of Central and Eastern Europe, Middle East and Africa (CEEMEA) for Global Banking at Citi and a Global Head of Citi's Public Sector Group from 2005-2011. From 2006-2007, Jay was also Global Head of Infrastructure for Citi.
Jay has a Masters Degree from Georgetown University's School of Foreign Service. He is a graduate of Colorado College. He attended Waseda University.