SPEAKERS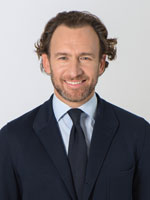 Alejandro Hernández-Puértolas
CEO
Hotel Investment Partners (HIP)


Alejandro Hernández-Puértolas is CEO at Hotel Investment Partners (HIP) and Hispania Activos Inmobiliarios (both companies owned by The Blackstone Group) and Member of the Board of Directors. HIP is one of the main hotel owners with 19,000 rooms.
Alejandro worked at Reig Capital from 2007 to 2015, where he was CEO for four years, with €2.6 billion in AuM, and was also a member of the investment committee at Miura Private Equity. Alejandro had earlier been a board member at Société Foncière Lyonnaise (SFL) and Loris Azzaro. From 2003 to 2007 he was Managing Director at MedGroup (Soros & Perry Capital Spanish Real Estate Investment Platform), with €400 million in hotel management. He began his career in the hotel industry as Deputy General Manager at the Iberostar Group.
Alejandro Hernández-Puértolas holds a degree in Business Administration and Management from the International University of Catalonia (UIC), a Master's degree in Business Administration from Jacksonville University, and completed the Stanford Executive Program (SEP) at Stanford GSB.