SPEAKERS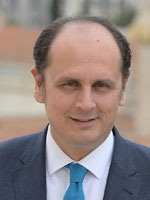 George Kormas
Executive General Manager, Head of Group Real Estate of Piraeus Bank Group and CEO Piraeus Real Estate S.A.
Mr. George Kormas is an Executive General Manager of Piraeus Bank Group and Head of Group Real Estate. He is also the CEO of Piraeus Real Estate S.A. as well as of PICAR S.A, both real estate subsidiaries of Piraeus Bank Group. He is a member of the Executive Committee of the Bank, participates in the Senior Credit and Recovery Credit Committee and other real estate related Investment committees, and he also chairs or sits as a member on the boards of subsidiaries and other Group related companies (Chairman of BoD in Piraeus Leasing S.A., a Non-Executive Member of BoD in Trastor REIC, member of Piraeus Bank Group Cultural Foundation, curator of Art Collection of Piraeus bank Group and other).
He is currently leading the Group Real Estate Unit of Piraeus Bank Group, responsible for the transformation of the management of all real estate assets on Piraeus Bank Group's balance sheet through the re-design, advice and execution of the Group's strategy relative to the full life cycle of its real estate assets. Before joining Piraeus Bank Group, Mr. Kormas served as an Advisor to the Governor of Bank of Greece and prior to that, he worked for the European Central Bank (ECB).
Throughout his twenty plus years of professional career, having acquired an extensive experience across the areas of banking, economic and regional development, real estate and tourism, he delivers solutions in demanding environments through innovative thinking, promoting productive change.
Mr. Kormas is a key member of the Task Force Financial Services, set up by an intergovernmental organization, the "Conseil de Cooperation Economique", discussing on major European Commission related themes on the banking industry. He is a member of the German Hellenic Chamber of Industry and Commerce, a member of the British Hellenic Chamber of Commerce, the Hellenic Swedish Chamber of Commerce, participating in regular round tables, forums and bilateral discussions, supporting exchange of information, practices and mindsets, across markets and jurisdictions.
He is also leading many cultural and corporate responsibility initiatives within Piraeus Bank Group.
He is a Chartered Member of RICS (Royal Institution of Chartered Surveyors) and he holds a Vordiplom (BS) in Economics and Management Sciences and a Diploma (MS) in Business Administration, Banking and Finance, both obtained from the Justus-Liebig-UniversitätGießen (JLU) in Germany.