SPEAKERS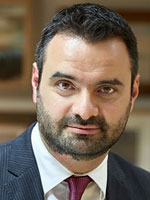 Evangelos I. Lakatzis
Partner
Saplegal - A.S. Papadimitriou & Partners Law Firm
Evangelos Lakatzis joined Saplegal - A.S. Papadimitriou & Partners Law Firm in 2004, having already significant experience in the region of South Eastern Europe, both as a legal counsel and as an EU PHARE Programs legal expert.
Evangelos has advised in numerous M&A deals and other cross-border transactions, representing mainly venture capital firms, private equity funds and strategic or private investors. He also advises corporations and other entities in the field of corporate, civil and commercial law. In addition, he has participated in several legislative committees, as well in several conferences and fora.
Evangelos is a Supreme Court Advocate and a certified mediator. He holds an LL.B from the University of Athens and an LL.M. from King's College London.