SPEAKERS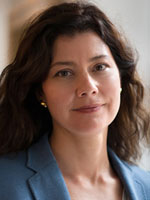 Christina Papanikolopoulou
Partner, Head of Finance & Capital Markets
Zepos & Yannopoulos Law Firm

Christina Papanikolopoulou joined our firm as a partner and head of our Finance and Capital Markets group. Christina's areas of practice are banking, capital markets and structured finance, with a steady emphasis on cross border transactions. Her expertise covers initial and secondary equity offerings, tender offers, corporate bonds, high yield and general bank debt finance. She has worked on major private and sovereign debt restructurings and in recent years she has focused on the sale/trading/management of distressed debt. She has worked on covered bonds, securitisations of bank-originated receivables and she has led her team of lawyers on the first commercial mortgage backed transaction to have taken place in Greece. Finally, she has experience on the regulation of financial institutions with emphasis on hybrid and other regulatory capital securities, both from a transactional and a regulatory perspective.
Christina regularly advises investment banks, institutional investors and intergovernmental financial organisations, as well as domestic banks and financial advisors. She works with all major international law firms which are active in the field of financial transactions and with all relevant domestic regulators.