SPEAKERS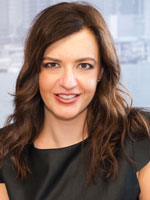 Eleni Vrettou
Executive General Manager
Corporate & Investment Banking
Piraeus Bank
Mrs. Eleni Vrettou is Executive General Manager of Corporate and Investment Banking at Piraeus Bank S.A..
She is responsible for the design, implementation and overseeing of the Bank's strategy across the entire wholesale area, including Large Corporate, SMEs, Shipping, Structured Finance, Real Estate and Hospitality, Agricultural Segment, as well as Transaction Banking products and Investment Banking. Within her span of responsibilities are included Piraeus Securities S.A and ETVA Industrial Development SA, while she is the Chairman of the Board of Directors of Piraeus Factoring S.A. and the Vice President of Piraeus Leasing S.A. and Piraeus Leases. She is a member of the Executive Committee of the Bank and various senior committees of the group.
She joined Piraeus Bank Group in April 2019 after having worked for 14 years at HSBC Bank Plc in Greece and United Kingdom. In her latest role, Eleni was a Managing Director and Head of Wholesale Banking in Greece, while prior to that she had served as the Head of Multinationals and Business Development for HSBC in CEE/CIS, Mediterranean and SubSaharan regions. Prior to HSBC, Eleni had worked for Greek and foreign financial institutions in Athens and New York in the fields of Credit and Risk Management and Investment Banking.
Mrs. Vrettou holds a Bachelor of Science in Economics from the Wharton School of the University of Pennsylvania (USA), is a native Greek speaker and speaks five foreign languages. She is married and mother of two children.