SPEAKERS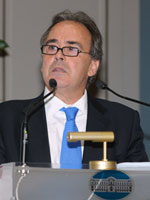 Zavvos Stelios
Founder, Chairman and CEO
Zeus Group of Companies

Mr. Zavvos is the Founder, Chairman and CEO of Zeus Group of companies with over 30 years of corporate, investment management, banking and real estate experience in Europe and the USA.
He is currently the Chairman of the Board of Directors and Member of the Investment Committee of Orilina Properties, a real estate investment company (REIC) investing in Greece.
He is the Senior Advisor to the Brevan Howard Fund for Greece and South Eastern Europe.
He was formerly a Member of the Board of Directors of the NASDAQ listed Star Bulk Carriers Corp, serving on the Board's Audit Committee.
He is also the Founder and President of the Harvard Business School Club of Greece, one of the leading fora in Southeastern Europe which addresses the economic, geopolitical and social issues.
Mr. Zavvos is also active in the civil society as the Chairman of the Board of SolidarityNow Foundation which supports both immigrants and vulnerable Greeks.
In addition, he is a Member of the European Council on Foreign Relations.
He holds an MBA from Harvard Business School and a MSc in Civil Engineering from Polytechnic University of Athens.