Speaker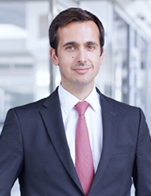 Christos Begleris
Co-Chief Financial
Star Bulk Carriers Corp.

Mr. Christos Begleris joined Star Bulk as Co-Chief Financial Officer in 2014. Until March 2013, he was a strategic project manager and senior finance executive at Thenamaris (Ships Management) Inc. From 2005 to 2006, Mr. Begleris worked in the principal investments group of London & Regional Properties based in London, where he was responsible for the origination and execution of large real estate acquisition projects throughout Europe. From 2002 to 2005, Mr. Begleris worked in the Fixed Income and Corporate Finance groups of Lehman Brothers based in London, where he was involved in privatization, restructuring, securitization, acquisition financing and principal investment projects in excess of $5.0 billion.

In addition to his role at Star Bulk, Mr. Begleris is also an executive of Oceanbulk Maritime S.A. and is co Chief Financial Officer of Oceanbulk's joint ventures with Oaktree Distress Opportunities Funds. Mr. Begleris received an M.Eng. in Mechanical Engineering from Imperial College, London, and an MBA from Harvard Business School.