Speakers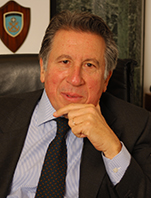 Dr. George A. Gratsos
HELMEPA Chairman


Born in Athens December 5th, 1942 Shipowner, senior member of a Greek shipping family established in 1902 B.Sc. in Naval Architecture and Marine Engineering from MIT, 1965 Ph.D on Shipping Market Dynamics by the University of the Aegean (Highest Honours)

He Is Chairman of HELMEPA (Hellenic Marine Environment Protection Association) and on the Board of Directors of the:
• UNION OF GREEK SHIPOWNERS (UGS) and President of the Maritime Safety and Marine Environment Protection Committee of the UGS
• Hellenic Chamber of Shipping
• U.K. FREIGHT DEMURRAGE AND DEFENCE ASSOCIATION LTD (London) (the largest mutual legal cost insurer)

He was President of the Hellenic Chamber of Shipping from 1996 to 2000 and from 2004 to February 2016.

He was a member of the Board of Directors of BIMCO, a member of the Executive Committee (1993-1997) and Vice President (1997-1999).

He is also a member of many international shipping organizations and has lectured at universities in Greece and abroad.

He is married and has 3 sons.