Speakers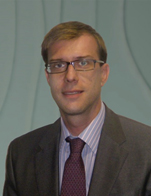 Dimitrios Panagopoulos
Managing Director
Regional Head, Shipping Finance Greece
DVB Bank SE

Mr. Dimitrios Panagopoulos is Regional Head, Shipping Finance Greece and Branch Manager of DVB Bank SE, Athens since Jan. 1st, 2017. In 2016, he had taken over the position of Chief Representative for DVB in Athens and implemented the transition to the Branch license status. He also served as Senior Relationship Manager for DVB Bank SE, Representative Office Greece since 2010. Before joining DVB, he was employed by UniCredit Bank (HVB) in Athens as VP, Corporate Treasury Sales responsible for the Greek market since 2007. Between 1997 and 2007, he held executive positions with the Tsakos Shipping Group of companies, including subsidiaries and the Group's Treasury and Finance departments. Before serving in the Greek army, he worked as Analyst for CS First Boston and Fleet Bank of Massachusetts during his studies in Boston, USA. He holds a Master of Science in Finance from Boston College (graduated 1995) and a Bachelor in Business Administration (Magna Cum Laude) from Northeastern University.