Speakers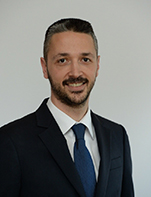 Panagiotis Papagiannakopoulos
Director
EY

Panagiotis is Director within EY's Advisory Practice. He is leading the Cyber Security and Data Protection & Privacy services, including EY's Greek Advanced Security Center. Being one of the EY contact persons in the Central and South East Europe (CSE) for such services, while having a coordination role in the CSE area for GDPR EY's related services, he cooperates with multiple clients in Greece and abroad operating in a variety of industries such as Banking, Telecommunications, Oil & Gas, Consumer Products and Retail, and Transportation. In addition, he has experience in IT Projects, leading a number of them around Architecture Blueprints, Systems Integration, Platform Development, APIs, Operations Assessments, and others. Prior to joining EY, he has worked for over 4 years in the IT function of a major Oil and Gas company in Greece.

Moreover, Panagiotis has assisted ENISA via the CEI List towards the work programme implementation by providing services as an expert in some domains. He is also an occasional lecturer at the Athens University of Economics and Business at the MSc of Information Systems, and a public speaker in a number of related events and conferences including also event and competitions in the startup community.

Finally, he holds a B.Sc. degree in Informatics and a M.Sc. degree in Information Systems (Scholarship from the National Funding Institute) from Athens University of Economic and Business. He also holds a CISSP Certification and a CISA Certification.