Speakers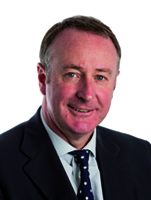 Tony Rice
Partner
HFW

Tony heads HFW's global finance group and has over 30 years' specialised ship finance experience (both debt and equity) in London, Greece and Hong Kong. He has represented banks and other financial institutions, insurance companies, PE funds, export credit agencies, equity investors, Islamic funds, owners, operators and shipyards. Tony's work is principally in the area of complex structured cross-border finance transactions in shipping and offshore, though he also provides corporate and commercial shipping advice. He has been involved in some high profile restructurings and work-outs acting principally for the financiers.

Tony is additionally head of the Firm's ECA finance team and represents banks and ECAs in non-marine (as well as marine) transactions with ECA support.

Chambers UK 2017 says Tony "'has a broad knowledge of ship finance with particular expertise in ECA-related transactions. He is very personable and approachable and maintains a balanced approach,' according to clients. He works on high-profile matters for banks and insurance companies, as well as owners and operators." Tony is recommended as a leading lawyer by both Legal 500 UK 2017 and Chambers UK 2017 for his experience in shipping finance and offshore.

Along with Associate Ian Hughes, Tony contributed to the UK chapter "Getting the Deal Through Ship Finance" for each of the years 2015-2017, which contains international insights into all areas of ship and offshore finance and vessel ownership affecting the international shipping industry.