Speaker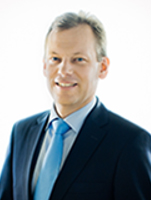 Roger Holm
President of Marine Solutions
Executive Vice President and member of the Board of Management
Wärtsilä Corporation


Roger Holm was born in 1972 and holds a Master of Science degree in Economics from Hanken School of Economics, Finland. He joined Wärtsilä in 1997 and he has held various managerial positions in Wärtsilä.

In 2001, he was appointed Corporate Controller for Wärtsilä Corporation before taking over as the Programme Director for the company's ERP programme in 2002. Roger was appointed Chief Information Officer in 2006, and in 2008 he became Vice President, Business Development in the company's Services business. In 2010, still in Services, he was appointed Vice President Solutions Management. From 2011 until 2013 he held the position of Vice President, Seals & Bearings, and from 2013 to 2015, Senior Vice President, Engines.

Roger has held his current position as President, Marine Business and Executive Vice President, Wärtsilä Corporation since November 2015. He is also a member of Board of Directors of the Hanken School of Economics.