Speakers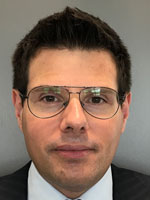 Michael Fostiropoulos
Director
Almi Tankers

1997 Athens College 4-year Lykeion

2000 BSc (Hons) Sociology/Economics, City University, London.

2001 MSc Shipping, Trade and Finance, City University, London.

2001- 2003 Trainee, 2004 Deputy C.E.O., 2005-2015 C.E.O. Fairsky Shipping and Trading S.A.

Hired young, well qualified successors for all the Departments and ameliorated the operational capacity of this bulk carrier operator through an integrated management system based on the HSQE Standard of the American Bureau of Shipping.

2009- 2020 Director, Almi Tankers S.A., Athens.

In March 2009 Michael and his brothers Alexander and John, organised the establishment of this new tanker management company. A team of young but well qualified tanker managers was selected. The guiding principle was operational integrity and the aim is to comply with the highest industry standards, i.e. TMSA Stage 3 plus ISO 9001, ISO 14001, ISO 45001, ISO 27001 and ISO 50001 certifications from Lloyd's Register. Investors in People accreditation was achieved in 2011. Gold recognition was achieved in September 2020.

Michael set up the Strategy Management Office and adopted the Balanced Scorecard Framework for the effective planning, monitoring and execution of the corporate Strategy. Collective participation in Strategic Planning through the four Strategic Focus groups takes place regularly and team members are encouraged to contribute to the discussion and initiate strategic projects on developing our people, improving our internal business processes, achieving customer satisfaction and ensuring the financial sustainability of the company in the long term.

2017 Designed and delivered a new Shipping Company Management elective to MSc Shipping, Trade and Finance students of the Costas Grammenos Centre of Cass Business School, City, Universtiy of London.