Capital Link's 7th Analyst & Investors Day Forum will take place on Wednesday and Thursday, October 21 & 22, as a digital conference, and part of the Posidonia Web Forums Week.

Over a two-day period, Wednesday-Thursday, October 21-22, Capital Link is hosting a pioneering digital forum that will showcase:

• the thought leadership of Greek Shipping on critical industry issues
• its significance and contribution to the global economy and trade
• its ability to help move the industry forward.


Greek shipowners are the partners of choice for a huge number of businesses around the globe. The Forum will feature exclusively Greek Shipowners on the panels sharing their industry insight with a global audience. It is the first time that a forum of such nature and structure is taking place covering all major industry topics as well as topics related to the Greek Shipping Cluster.

Virtual Event:

We are using a highly sophisticated Digital Conference Platform which besides maximizing the quality of the live sessions, it also provides for great online interaction amongst delegates and also features Digital Booths where companies can feature their materials.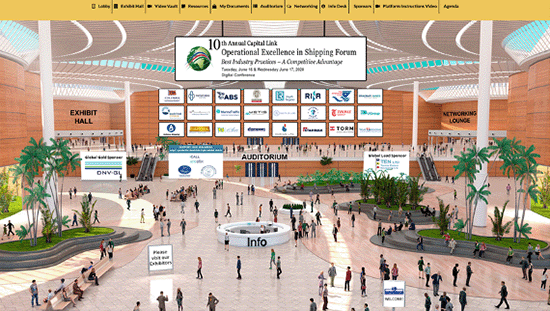 Contacts:

For more information, please contact: Eleni Bej, Director of Event Operations at Email: ebej@capitallink.com, Tel : +1 (212) 661-7566 in NY or Athena Kosmadaki, Marketing & Media Relations at Email: athensoffice@capitallink.com, Tel : +30 (210) 610-9800 in Greece.

For sponsorship opportunities please contact: Olga Bornozi, Nicolas Bornozis and Anny Zhu at Email: forum@capitallink.com, Tel: +1 (212) 661-7566.