Speaker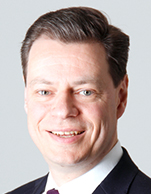 Jens Dose
Director, Head of International Shipping
M.M.Warburg & CO

Jens Dose has been Joint Head of Shipping of M.M.Warburg & CO since 2016 together with his longtime colleague and partner Christian Speer. Over the last five years they have been building up a substantial business both for ship finance and cash management for shipping companies which is further growing. They are in charge of growing a client portfolio and serving clients from the maritime industry in all relevant European countries, especially in Cyprus, Greece, Monaca, Scandinavia, UK and, of course, Germany.

Prior to joining Warburg Jens studied Business Administration at University of Kiel (Germany) and University of Gothenborg (Sweden) and gained practical experiences in the finance sector in Germany, Philadelphia and London during that time. Jens joined the International Division of Berenberg in 1997 as the very first employee focusing on the shipping sector. For many years Jens has been a Director and Deputy Head of the International Shipping Department. He is married and has two boys.