Speaker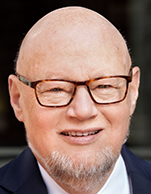 Alfred Hartmann
President - German Shipowners Association
Chairman - Hartmann Group

A trained shipbroker and shipping merchant, Capt. Alfred Hartmann graduated in Industrial Engineering & Management and attained the Deep Sea Master's license for deep-sea vessels. Sailing in worldwide trades as Nautical Officer and Master, working as a newbuilding supervisor in Japan for two years and after that heading the personnel department of a German shipping company, in 1981 he founded Hartmann Reederei - today one of Germany's largest shipping companies. In 2008, he assumed the position of Chairman of the Supervisory Board of Hartmann AG.

He is the President of the German Shipowners' Association (VDR), member of the Advisory Committees of NORD/LB and classification societies Bureau Veritas and DNV GL, and Board Member of the International Chamber of Shipping (ICS). Alfred Hartmann, married, three children, is Honorary Senator of the University of Applied Sciences Emden/Leer and Chairman of the Hospice Foundation Leer.