Speaker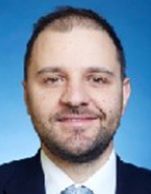 Ilias Katsoulis
Global Head of Shipping
Global Credit Financing and Solutions
Deutsche Bank AG

Ilias Katsoulis is a member of the Global Markets Credit Financing platform at Deutsche Bank focusing on financing transactions in the Transportation sectors specializing in Shipping Structured Finance.

Key focus is the structuring of innovative debt solutions for Corporate and Institutional Clients.

Ilias commenced working for Deutsche Bank in 2008. Prior to that he worked for the Leveraged Finance team of JP Morgan.