Speaker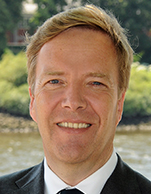 Michael Vinnen
Managing Partner
F. A. Vinnen & Co. (GmbH & Co. KG)

Michael Vinnen is the Managing Partner of Bremen based F. A. Vinnen & Co. In 1999 he joined his family's ship owning business and became partner in 2011. In 2016 he was able to buy out all other non-family shareholders and become the sole owner. F. A. Vinnen & Co. is Germany's second oldest ship owner, founded in 1819 with roots back to 1797. He is proud to be the seventh generation of his family to serve this company. As Managing Partner, he oversees the General Strategy of the company as well as Projects, Chartering and Finances. He successfully developed the firm as an owner of medium sized container vessels but also as a ship manager for international container ship owners. Further he has built up his own crewing companies in the Philippines and in Malta to provide excellent crewing services for the Vinnen fleet and for third party crewing customers.

Mr. Vinnen is the chair of Bremer Rhederverein (Bremen Shipowners Association) and has been serving on the board of Verband Deutscher Reeder (German Shipowners Association) since many years. Since 2011 he is also member of the Board of The Swedish Club. He holds a Master's degree in Economics from Albert-Ludwigs-University in Freiburg, Germany.