Speaker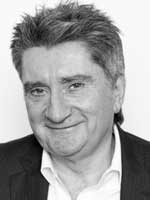 Richard Fulford-Smith
Managing Partner
Affinity (Shipping) LLP

Richard started his career with Blue Funnel / Elder Dempster attached to the London based McGregor Gow & Holland, in house brokerage. After a spell in the tanker business his main job was the disposal of the old liner ships as the company attempted to move into bulk shipping. That was not a comfortable transition for any of the old-style empire serving liner companies and by 1976 he sought a move away.

He joined the competitive brokerage shop of Eggar Forrester to learn more about the bulk businesses and the role of Greek and Scandinavian. ship owners becoming ever more prominent. After only nine months he moved on to J E Hyde & Company, (house broker to Bibby Line) to open up a competitive desk.

Five years later he joined SSY, in the sale and purchase competitive team, managing it successfully through the difficult 1980s. At the very bottom of the terrible market in 1986 he oversaw the purchase of a large block of bulk carriers for the emerging Russian state companies. He accumulated significant Hong Kong, Chinese and Greek bulk S&P business and was approached by Clarksons to head the sale and purchase team in 1992 after that company had suffered a notable decline in its business

He became Managing Director of H Clarkson & Company in 1999, sat on the board of Clarkson plc for a few years and acted as CEO of Clarkson plc 2004-08. During that period Clarkson doubled In size with his vision for acquiring key personnel attracted by a very transparent profit share inventive scheme. He oversaw many well planned and executed acquisitions which created a broader coverage than CLK's strong dry bulk and Tanker roots.

Work to grow the Research base with Dr Stopford and the creation of powerful Gas and Chemicals teams transformed the company and expanded his base of knowledge. Many shipbuilding deals, combined with some major corporate deals contributed to the build-up of a USD 500 million forward order book, by the time of his departure. He left Clarkson in the summer of 2008 pursuant to a significant difference of opinion with the Chairman of the Board on how to settle a Russian legal challenge.

After a year on the sidelines of shipping he joined forces with PLATOU in Oslo to pursue a shared ambition with Peter Anker on how to fund shipping through capital markets. He built an international shipping team from the London base, including particularly a focus on shipbuilding and LNG / Tankers and a continuing service to many quality shipowners. The fledgling company in London, PLATOU LLP grew and was notably successful in helping create the Oslo investment banking presence and a large quantity of new construction work for its clients, many of which were introduced and handled in London.

Such was the success of the combined venture together with the highly regarded Norwegian base of offshore and Scandinavian business, that CLK agreed to buy Platou. With the proceeds from the sale of the stock, Richard and his colleagues established Affinity (Shipping) LLP. It was formed on 2nd January 2015, following the management buyout of RS Platou LLP and its associates, since when it has continued to grow robustly despite the challenging market. Affinity now has offices in 13 different locations worldwide and a staff of close to 200.