Speaker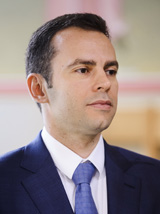 John Dragnis
Chief Executive Officer
Goldenport Holdings Inc.

John started his career in Goldenport Group in 2001 as a Commercial Manager of its dry bulk and container fleet. He was appointed as Chief Executive Officer of Goldenport Holdings Inc. in 2012. John also co-founded OceanGold Tankers Inc. in 2007, a product and chemical tankers specialist that focuses on LR2, LR1 and MR2 type vessels and he was actively involved in setting up and running Golden Yachts, a mega yachts construction, management and chartering business.

In 2016, he successfully managed to de-list and re-capitalize Goldenport Holdings Inc. which was absorbed by the Goldenport Group. Today, the Group operates a fleet of more than 38 ocean-going vessels and 8 mega-yachts. He holds a degree in Business Administration and a Master's degree in Shipping, Trade and Finance from CASS Business School, London.