Speaker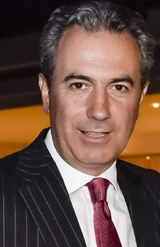 Vassilis E. Kertsikoff
Vice Chairman
Eletson

Vassilis E. Kertsikoff is Vice Chairman of family-owned Eletson which he joined in 1991 and the Chairman & CEO of Eletson Gas, a joint venture between Eletson & the Blackstone Group. He previously served as the CFO of Eletson where he was instrumental, among others, in raising debt facilities from various international sources, including the first ever high-yield bond by a European issuer in the US market.

Mr Kertsikoff's background is international corporate finance, fund management and shipping. He also holds a directorship in various corporate and real estate entities.

Vassilis E. Kertsikoff holds a Bachelor of Arts degree in International Relations from Princeton University and a Master of Business Administration in Finance from New York University.